Brandon Coppernoll: Interactive Marketer, Web Architect, and Family Man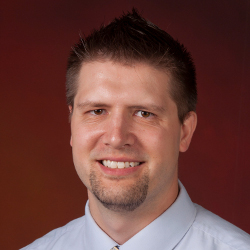 I'm in my late twenties, living in Muncie, Indiana, and I am a web developer who broke the mold and started going down my own path. Raised in Peru, IN, I spent most of my time as a scholar and athlete. I was a member of the National Honor Society, played baseball and wrestled throughout high school.
I am a Ball State University graduate and employee, and I currently live in Muncie with my wife and two kids. I also have a cat and dog named Butters and Lucy respectively. In my spare time, I serve as a leader of the Leadership Board, visiting friends, watching movies, playing video games, writing, and coaching youth baseball.
Professional highlights
I graduated in 2005 with a Bachelor of Science degree with a focus on information systems management. I took courses on .Net development, database management, information systems and management. Upon graduation, I was able to land a job as a web developer at a local web development company.
In 2006, I joined Fusework Studios as application designer and developed a new, proprietary CMS from scratch in ASP classic. By mid-2007, I was appointed director of Internet services to lead a development team and collaborate with project managers to create websites and applications.
I took an amazing job offer from Ball State University to work in University Marketing and Communications as a web solutions architect in 2010. I serve as the technical project lead for the Sitecore CMS, and I serve as a business analyst role on many technical projects to meet the university's communication needs.
Coppernoll Web Solutions is my latest business venture in which I provide small business interactive marketing consultation, specializing in WordPress, along with other web services for small businesses.
Hire Me
I can take your idea from concept to completion including a branding, design, and web development strategy. My services are designed to set up your online business for success using intuitive web metrics.
Writing
Within this site you'll find my blog in which my focus is the proper use of content management systems, WordPress, Sitecore, development, and my personal opinions on some of the more important topics around the Internet.
Contact Me
I hope as you read through the site you find information that benefits you, and if you're looking for someone to guide you through the process of a new website or even a redesign please feel free to contact me at any time.