Digital marketing. Web design & development. Web analytics. Geek.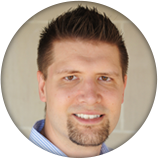 Hello! I live in Muncie, Indiana, with my wife and three kids. I am a digital marketing consultant specializing in online marketing, web design and development, and web analytics for small businesses and non-profits. I have been developing websites since 2005 and providing online marketing services since 2009.
Professional Highlights
I graduated Ball State University in 2005 with a B.S. in Computer Science. My first professional job was a web developer for a local Muncie technology company specializing in custom websites. In 2006, I took a job at another local startup specializing in internet marketing and web development as a director of internet services. Every project from web development to social media came across my desk, and my experiences planted the seeds for my philosophy I live by today. In 2010, I joined the Ball State university marketing and communications team in a business analyst role.
I love diving right in and "entering the danger" with my clients. It's a fun and fascinating experience. I began freelancing in 2011 to help clients solve their business problems and develop websites. I started BC Digital Marketing in 2014 to expand my services and offerings in digital strategy and web analytics.
What makes me different?
My clients continually praise my ability to look beyond the website and look into their businesses and marketing efforts. I have an entrepreneurial mind and believe your website should add to your bottom line and be more than a marketing expenditure in your budget. I encourage data-driven decisions to optimize your online marketing efforts and get you results.
I'd like to get to know you. I want to understand your business. We will build our relationship on trust and open communication, and we will find the right connection to put you in the position to win.
What can I do for you?
I will help you get your message to the right people using the right methods. We will test ideas, challenge ourselves, and put your business in the position to win.
I love web analytics, and in time you will too. We will use your website and marketing data to make informed decisions, necessary adjustments, and improve conversions. That means we'll find ways to make you more money.
My primary choice for developing websites is WordPress, and I use the Genesis Framework. The Genesis Framework is backed by over 100,000 people and businesses to develop incredible custom websites. This means you're getting a solid foundation for your website that is constantly critiqued and improved by thousands of contributors without the cost.
Brandon, we need to talk
I'm looking forward to it! Let's get something scheduled. Contact Brandon
Fun facts
Baseball is my favorite sport, and sadly I'm a Chicago Cubs fan
I love my local sports teams: Indianapolis Colts, Indianapolis Indians, and Indiana Pacers
I love CrossFit, and I'll tell you about it
Video games are a big part of my life – I've developed life-long friendships because of them
I used to play guitar and sing comedic songs at open mic in my college dorm but that was a long time ago