The only reason I would prefer to run is if I'm running away from something or a lot of somethings. For example, zombies. I wouldn't think twice about running if that meant I'd live another day.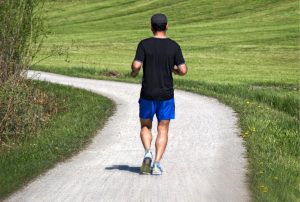 To put it simply: I hate running. I've been a strong advocate for finding any other possible way to get in shape other than running. It bores me. It's difficult for me. A mile in I question whether jumping in front of a moving vehicle would be less painful.
Yet I find myself starting a Couch to 5K program and running.
But You Hate Running!
When I first announced I completed my first week of Couch to 5K I was flooded with "you said you hate running" and "you said running was not your thing." "Never." "Ever."
Well, after two weeks I still hate it, but I'm going to keep after it.
Here's why:
I hate running but also recognize the benefits of running
I prefer weight lifting or playing sports, and running as a supplement helps those things
I'm 33, and I want to live many more years and be active with my young, active kids
Maybe this piece is the tipping point:
Nothing I've ever done, that was worth it, didn't have something I hated about it – to get in shape through running is no different.
Pushing Through the Bad
If I only did what I liked doing to get in shape, I'm pretty sure my shoulders and arms would be super strong but my cardio, legs, chest, and back would be severely lacking. More than they already are (hey, I said I'm getting in shape).
If I only did what I liked when it came to digital marketing, I wouldn't be where I am today in my career.
If I only did what I liked when it came to being a parent, my kids wouldn't ever be clean, and the dishes would be piling up.
Sometimes you have to push through the "bad" or the things you don't particularly like to get to where you want to go. Those sacrifices, big and small, separate you from success in more areas than only a few.
So when you see me running, drenched in sweat, and cursing the decision to get out of bed and run that day, just know you're catching me in one of my least favorite moments. Creating a complete plan for health is what's driving me to keep going. I'll see you at the finish line.