Recently I detailed how to configure Contact Form 7 to be tracked with Google Analytics and ultimately that's only half the story. Tracking the form submissions in the manner described only creates a virtual page which you can see as a "pageview" within GA. This is useful, but what if you wanted to see how effective your form really was? Using goals in Google Analytics is easy, and it only takes minutes to set up a simple goal funnel to track conversions, abandonment rate, and how people are getting to and where they're going from your form.
The Setup
For basic forms there's little you have to do, and for this example I will be focusing on a basic contact form. I'm including the example of my contact form here.
Log in to Google Analytics. Select the profile you wish to update.
Click Admin in the top right corner.
Click Goals. When adding a goal you'll click a link labeled +Goal.
Fill out the form. Give your goal a name, select URL Destination.
Using my contact form as an example, give the Goal URL the address the form submission was updated with: "/contact/thank-you/"
Select Exact Match for Match Type.
After you save your goal, Google Analytics will begin tracking your submissions in the form of goals. There is another step which really aids you in collecting data about the process.

The Goal Funnel
The goal funnel is a series of pages or steps leading up to your conversion. Google Analytics provides excellent visuals on the breakdown of your funnel when set up properly. In this case, there is only one step to truly get to the conversion point of my goal and that is visiting the contact form itself before submitting.
Under the Goal Funnel section for your chosen goal click +Goal Funnel Step or fill out the fields if available.
For URL, provide the page address which is the first step. In this case, I have only one step which is visiting "/contact/".
List the page Name in the next field.
If the step is a required step, check the box.
Once you click save, Google Analytics will begin following your goal's progress to provide better conversion and abandonment insight.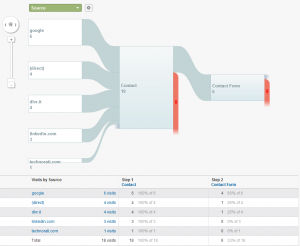 The Goal Flow
The goal flow visualizes the path your visitors traveled through a funnel toward a goal. This is useful if you want to see how visitors are traveling your site to reach your objective for them. This is useful in a variety of ways. Where people are entering your funnel? Is there a place within the funnel you see the most abandonment? Does different traffic behavior vary in your funnel?
Take Time To Picture Your Goal
Before allowing Google Analytics to draw how your funnel takes shape on your site you should sit down and visualize ahead of time. By planning how you want your visitors to achieve the goal will help you optimize your site before taking measurements. The great thing about a well-designed website and funnel is they both can be adjusted so don't worry about making it perfect the first time. Part of taking measurement of any website is analyzing the data and making decisions based on that data.
Would you like help in setting up goals in your website and start tracking conversions? Contact me for a free consultation or ask a question below!