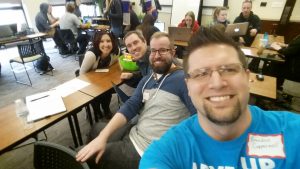 The Website Thru The Nite event, January 21, 2017, was the first time I've developed a website in 24 hours or less. Luckily it was a little less. I'm 33 going on 34. I don't have the energy I used to in my twenties! While I've lost count on the total number of websites I've built in more than a decade in my profession, I've rarely had to cram this much work in such a tight timeline.
On Developing a Website
The whole experience gave me an opportunity to reflect and provide some lessons learned or insights on the whole affair:
Don't rush through the discovery
One of the main reasons we were successful is we spent the first 90 minutes getting to know our client (Christian Ministries of Delaware County) and really learning more about them and what their organization needs to succeed. Don't focus on just the website. Focus on them. Once you know them better, you will be able to build a better website.
Finally, we confirmed we had all the content and images the client could possibly provide.
Spend some time debriefing and planning
Once Andrea left we didn't immediately dive into code or WordPress and start building the site. We discussed the themes we heard from our client and mapped out how we can fulfill our client's main objectives from the site. We knew the critical messages that needed to be conveyed, and we knew where the transactions needed to take place.
Next we made sure the three of us building the site were on the same page with the design. This made it a lot easier for us to move forward with building the content and code because we knew what we needed ahead of time.
Assign tasks
Assigning tasks allowed the three of us to prevent total team burnout in the 24 hours, but it also made sure each of us knew who to ask questions or share info as the night went on. The same goes for a long project.
Have fun
You have 24 hours to build a website. Have fun with it! We spent the night going back and forth from crazy optimism and "the sky is falling." And we laughed about it.
Take Breaks
When you have 24 hours between three people (a total of 72 working hours), you need to take time to take a break. Stand up. Go play cornhole (dammit Greg, you and your cornhole mastery level 23). Listen to music. Do what you need to keep the project fresh throughout the night.
Give the client opportunity for feedback
Before the wee hours of the morning, we gave Andrea a chance to come back and see the look and progress. We asked for her input early before the complete build because with her knowing what to expect next it made it all the more simple. Don't build your site in a vacuum and expect your client to love it. Ever. Include her, and she'll feel a part of the team. You'll get more done that way.
Proofread many times
Look – we were very tired by the morning. Each of us proofread each page many times, and then we asked our client to do the same. Keep the eyes fresh on it.
Get client approval
Simply have them review the site and share if the site will work for them. Andrea was gracious enough to only have a few changes at 9 a.m. (after 21 hours) so we were able to wrap up quickly and enjoy the last couple of hours.
Be proud of your work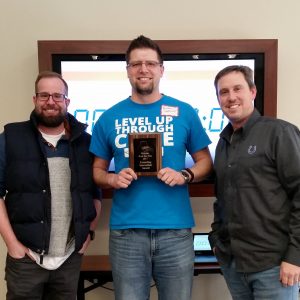 It's not easy to cram 60+ hours of productivity into a 24-hour period. You have to make decisions quickly, and having a countdown clock always in view plus a gong reverberating through the room on the hour can make it stressful. There's a reason projects like this take a few weeks to do traditionally. It's hard to do all these things one after the other, stay fresh, and not make mistakes. When you add in typical communication channels in a professional setting, it can really add to a timeline!
That all being said, be proud of the work you did in 24 hours and the work your client did to prepare!
When You're Finished
Rest!