Tagging is a great way to fine tune your content within your categories. In WordPress, you can place your posts in categories and add tags as needed. Tags are a great way to label niche content. For example, if I have a category about food my tags could include steak, eggs, and bacon. Now excuse me as I grab something to eat. Still here? Good.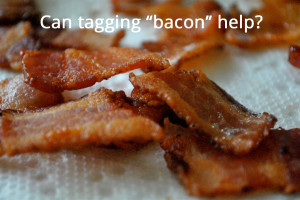 Tagging and SEO
Cutting to the chase, there is a legitimate reason to think of SEO with tagging. Tags in WordPress help with SEO when your tag archives provide a legitimate help to search engine users. This really is up to your goals for your site's SEO strategy. Archives may be a strong part of your site because of high quantities of content. Search engine result pages (SERPs) might never list your tags high in results, but you may still grab a few referrals.
The purpose of using tags is to link blog posts to each other through these terms. A good tag can give a search engine a good idea of what's relevant to your blog. Plugins like WordPress SEO by Yoast can help you with titles of tag archives as well as meta descriptions. I recommend using plugins like this to help with SERPs.
What if you don't want your tags in search engines?
WordPress SEO by Yoast has options to NOINDEX your tag archives. Choosing NOINDEX for all tags might not be your style. With Yoast's plugin you can select NOINDEX or INDEX on individual tags. Use this option if there are some niche tags that you want the opportunity to be found while you don't for the rest.

Tagging and the User
Too many tags on a blog post can create some usability issues. You might have read a blog post where 10, 20, or as many as 40 tags were used to qualify the content. This creates long lists that can overwhelm or confuse a user. It's best to limit the tags you choose. Effective tagging is the practice of using highly relevant and specific phrases. Tag clouds are a popular sidebar option for offering users navigation to important tags. They're a common feature that many bloggers use.
How Do You Decide?
Include tags in your SEO strategy if your site is providing niche content that is helping people. Index your tag archives if they help answer questions, problems, or group content in a unique way.
If tags are used sparingly on your site, it may be worth applying the NOINDEX statement. A few posts linked here and there won't add SEO value to your site. As SEO moves further and further away from keyword densities and other math tactics, always default to what is best for your user.
What's your take? Do tags play a role in your SEO strategy or are they left alone? Please share in the comments below.